Welcome! Thank you for your interest in being a Visiting Scholar at CESL!
CESL offers many opportunities for visiting scholars. While conducting their research, scholars will be asked to participate in some aspect of program development or departmental outreach as well as share their research and results with the CESL faculty and UA community. We offer opportunities for class observations in both intensive and traditional English language courses, interaction with faculty, access to CESL & UA libraries, and chances to explore other possibilities related to their research at the University of Arizona. While conducting their research, scholars will be asked to participate in some aspect of program development or departmental outreach as well as share their research and results with the CESL faculty and UA community.
Regular CESL Visiting Scholars hold a PhD and meet the English proficiency requirements below.
GENERAL ENGLISH PROFICIENCY REQUIREMENTS
Applicants can provide proof of English proficiency using one of the four methods below. If you do not meet the English language requirement, please consider joining our Intensive English Program.
1. RECOGNIZED ENGLISH LANGUAGE TEST
A score sheet from one of the following four tests indicating that the prospective exchange visitor has taken the test within the past two years and obtained at least the minimum score indicated.
2. SIGNED DOCUMENTATION FROM AN ENGLISH LANGUAGE SCHOOL
A signed letter from an internationally recognized English language school affirming that they have assessed the prospective exchange visitor's English language proficiency within the past two years at the equivalent of level B2 or higher on the Common European Framework of Reference for Language (CEFR). Further, the letter must indicate: (1) any and all accreditations possessed by the school; (2) the method of English language proficiency assessment; (3) the date of assessment; and (4) the dates the prospective exchange visitor attended courses at the school.
3. CESL Oral Proficiency Interview (OPI)
CESL now offers a test of spoken English proficiency. The test is designed to measure communicative competence. Test-takers are assessed based on the fluency, accuracy, and range of their spoken language production. Their assessed level of oral proficiency is based on the language scale developed by the world-standard Common European Framework of Reference (CEFR). After completing the interview, test-takers will be sent an Official Score Report specifying their level of oral proficiency (not overall proficiency). 
This proficiency test has been specifically designed to assess the oral proficiency of potential visiting scholars to UA, and satisfies requirements of the International and Faculty and Scholars for issuing a J1 Visa. 
4. DEGREE FROM ACADEMIC INSTITUTION IN AN ENGLISH-SPEAKING COUNTRY UTILIZING ENGLISH LANGUAGE INSTRUCTION, EARNED WITHIN PAST TWO YEARS
A diploma (bachelor's degree or higher) issued within the past two years by an academic institution in an English-speaking country that utilizes English language instruction. In addition to submitting the diploma, verification that the institution utilizes English language instruction must also be submitted. Verification of English language instruction could take on many forms, including but not limited to a printout of the institution's website or signed documentation from an official at the institution, but personal attestations from prospective exchange visitors and parties not affiliated with the institution will not be accepted as verification. Please note that we do not accept graduation from an English-speaking institution alone.
Visiting scholars at CESL must be self-funded and may stay for a maximum of six months.  Visiting Scholars may apply, pay tuition and fees and enroll in a CESL or UA class with approval of the instructor. The scholar (or scholar's sponsor) is responsible for paying all associated costs including DS-2019 and FedEx fees, passport, visa, travel, insurance, living and research expenses, CatCard, and any other incidentals. International applicants must have a current passport valid for at least 6 months after the intended arrival date.
Please also see the most current information from the Office of International Faculty and Scholars at https://global.arizona.edu/ifs
PROGRAM APPLICATION PROCESS
Interested scholars submit an Initial Inquiry form by using the INQUIRE NOW button at the bottom of this page.
If accepted, the scholar must then complete the full Visiting Scholar application and provide therequired documents 


Visiting Scholar Application
Current Curriculum Vitae
Proposal for research, (please follow our research protocol in creating your proposal)
Two (2) professional letters of recommendation
An original letter of financial support from the home institution or sponsor for all expenses during your stay in Tucson
A letter of guarantee of employment upon return to the home institution
A cover letter explaining why CESL seems to be the best location for conducting research
Documentation of English proficiency (from last two years)
Copy of passport for scholar and any dependents

Scholars should also read about J-1 Visa requirements on the website of the UA Office of International Faculty and Scholars.
Once all materials are received, and application, FedEx, and IFS fees are paid, the DS-2019 request will be processed.
You will then be contacted with more details.
If you meet the requirements to be a regular Visiting Scholar and would like to apply, or if you have any questions, please contact Dr. Sumayya Granger at sracy@email.arizona.edu. Once you have been accepted, you will need to prepare and submit the application materials indicated below. 
If you meet the requirements above except for holding a PhD and are still interested in being a Visiting Scholar, please consider the SLAT-CESL Visiting Scholars Program.
 
---
Previous Visiting Scholars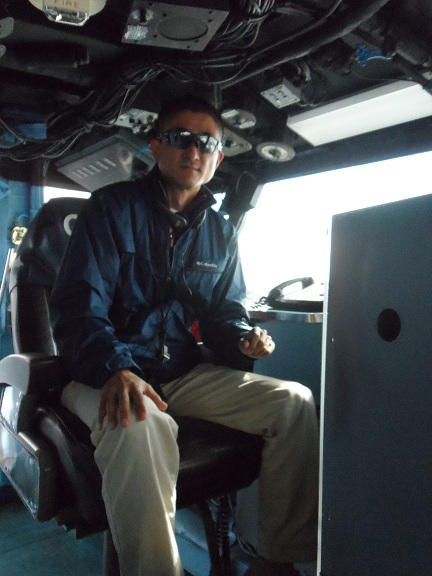 Jongmin Jeon
Korea Air Force Academy | Fall, 2012
Dr. Jeon came to CESL to research options for the continuing development of the English-language curriculum at the Korea Air Force Academy. As a result of his research Dr. Jeon came to the following conclusions. First, all students should be required to reach at least a B1 level of English (according to the Common European Framework). In addition, students should follow a curriculum of 2 written communication classes and 4 oral communication classes. The teaching should be based on student proficiency levels and their performance should be assessed relative to learning outcomes. Finally, CESL's Independent Reading Program served as a model for a reading program that will give students exposure to language outside the classroom.