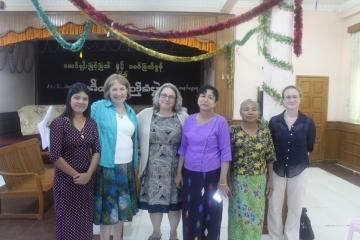 CESL has joined with the UA College of Agriculture and Life Sciences and the Southwest Institute for Research on Women (SIROW) on a USAID project to develop a sustainable seafood industry in Myanmar. The $1.7 million grant funds a three-year project that the UA, in partnership with Yangon and Pathein Universities and the Myanmar Fisheries Federation, will develop the infrastructure that will allow Myanmar to compete in the global seafood industry. CESL's role in the project is to improve field-specific English language proficiency among the various stakeholders: fishermen and fishery workers, processors, distributors, academics, and businesspeople.

 

Myanmar, which in the last few years has been transitioning to democracy from 60 years of military rule, will be joining the Southeast Asian Free Trade Zone in 2016.  Kevin Fitzsimmons, the director of international programs for the UA's College of Agriculture and Life Science, and principal investigator for the USAID project, stresses that "improving human and physical capacity will be critical" if Myanmar is to compete economically with other nations in the region, such as Vietnam and Thailand.

 

Linda Chu, CESL's Assistant Director of Global Programs, and Julianne Hammink, a Content Developer at CESL, are developing a bilingual Burmese/English multimedia dictionary of business and seafood vocabulary. In June, 2015, Chu and Hammink traveled with the UA team to Myanmar, where they introduced the first edition of the dictionary to groups of students, workers, businesspeople and academics at several locations around the country. In addition, they presented workshops on using English in business and industry.

 

The dictionary and English for Specific Purposes project will continue for two more years. Future plans for the CESL component include the addition of a web-based version of the dictionary, a phone app, and additional workshops in business English.