Meet in front of CESL at 5:00pm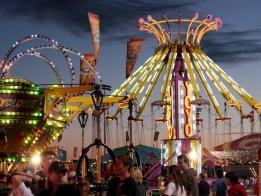 Spring Fling comes back to the UA Mall! This event happens once a year and is the largest student run carnival in the United States! There will be rides, games, food and fun!
We hope you can join your fellow CESL classmates, Student Activities Assistants, and UA students to enjoy this entertaining night! Meet UA students, have fun, and practice your English!
This event is FREE with a CatCard and only $5 without one. Wristbands for unlimited rides are only $35 or you can buy individual tickets for specific rides/games right at the carnival.
Register below for FREE so we know who is coming. The carnival runs all weekend (Friday, April 3rd–Sunday, April 5th), but we'll be going on Friday (April 3rd) at night. Meet in front of CESL at 5:00pm.
** Note: Due to the threat of Coronavirus and restrictions suggested by the Federal Government and the UA President, all regularly planned Spring 2 activities have been canceled. We'll update this site with new virtual offerings as we determine them. Thank you for your understanding. **