October 12th, 2019 | 4:00PM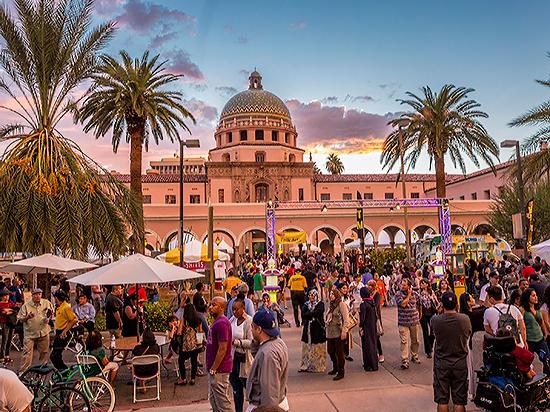 Join the CESL Activities team on Saturday, October 12th as we experience one of the most iconic events in town--The Tucson Meet Yourself Festival! Tucson Meet Yourself (or TMY for short) is a festival celebrating the numerous and varied cultures, traditions, and food that makes up Tucson. There are FREE performing arts events scheduled throughout the festival (dance, music, and more), but for many people, the festival is really about F-O-O-D food! In fact, many Tucsonans affectionately call the festival Tucson Eat Yourself in reference to all the food options on offer. Regardless, this is an event you won't want to miss. Come have fun, join your classmates, make new friends, try food from all over the globe, enjoy the sights and sounds of mulit-cultural Tucson, and get to know the multi-faceted communities that define Tucson! 
The festival runs from Friday, October 11th--through Sunday, October 13th, but we'll be going on Saturday, October 12th. Meet in front of CESL at 4pm. This event is FREE to register for, but you will have to pay for your own transportation and food. We'll take the streetcar ($4 for a day pass) downtown to the festival. Bring your own money for food and shopping.