February 2nd, 2019 | 10:00AM
Meet in front of CESL at 10:00am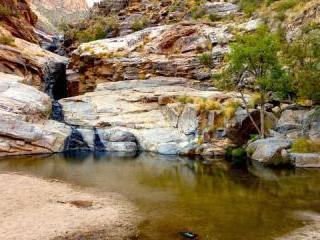 Winter in Tucson means great hiking weather. Join the CESL activities team on Saturday, February 2nd as we go to Sabino Canyon. Sabino Canyon is a "desert oasis located in Coronado National Forest". Located in the beautiful Santa Catalina Mountains north of Tucson, Sabino Canyon is a nature lovers paradise. There are a variety of hiking trails to choose from--some easy, some challenging. We will be taking the Bear Canyon Trail to Seven Falls. It's an easy 2 mile walk from the parking lot and then a slightly more challenging 2 1/2 mile hike to the falls. The trail criss-crosses over the Sabino Creek several times before arriving at Seven Falls where you can see many pools of water (weather permitting). The hike takes about 3 hours.  
Please meet in front of CESL at 10am. Wear comfortable hiking shoes--no flip flops or open-toed shoes. Bring water (at least 1 quart / liter)  and something to snack on (if you want), although we can stop for lunch on the way home. We should be back to CESL around 2pm. 
Round-trip transportation is only $10. Sign up now as space is limited.
**Note: TIU students are pre-registered for this activity and therefore do NOT need to sign up.**