June 29th, 2019 | 12:00PM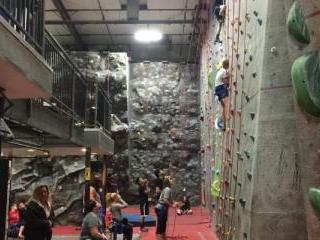 Join the activities team on Saturday, June 29th for a mental and physical challenge--indoor rock climbing at Rocks & Ropes. Rocks & Ropes is downtown Tucson's most popular indoor rock climbing gym. You will get a safety demonstration in belaying, climbing, and rope knots before spending time climbing and helping others climb. Rock climbing is both a physical and mental sport and if you've never tried it, now is the best time to do so! For experienced climbers, Rocks & Ropes offers bouldering and challenging courses in addition to beginner's routes. There is something for everyone and this is a great way to beat the heat and make the most of your summer! Don't miss it. 
Meet in front of CESL at 12pm. We'll take the streetcar downtown. Bring $4 for a one-day streetcar pass (pay via the GoTucsonTransit app, or use your UPass if you have one). $30 includes the safety demonstration, three hours of unlimited climbing, and rock climbing shoe and harness rental. Register online below. Space is limited, so don't delay.  
You can save time by completing the participant agreement and waiver online here before you go.
**Due to low registration numbers, this activity has been canceled. Please consider one of our other fun summer activities. We apologize for any inconvenience.**