February 8th, 2020 | 12:00PM
Meet in front of CESL at 12:00pm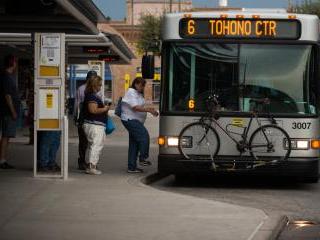 Welcome to Tucson! Learn how to ride the Sun Tran buses in town AND enjoy shopping at the Tucson Mall! On Saturday, February 8th, we'll show you how! Simply meet in front of the CESL building at 12pm. We will meet you and other students there and then walk over to the Euclid Ave. stop in front of the CVS pharmacy on the corner of University Blvd. (a five minute walk from CESL) to catch the #6 bus that goes to the Tucson Mall. 
The activity itself is FREE, but you must have exact change--$1.75 each way ($3.50 in total) for the bus and optional spending money for the mall and lunch. The bus does NOT give change (you can always get change by buying something small in the CVS store there). You can also use the Go Tucson Transit app to pay with a credit/debit card via your mobile phone, but you must have a US phone number to register. 
Click the link on the bottom of the page to register so we know you're coming.