Meet in front of CESL at 7pm!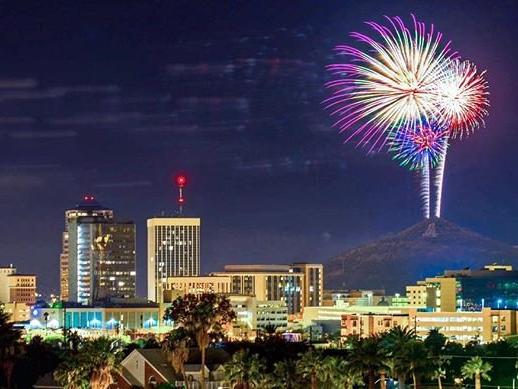 Join the activities team on Thursday, July 4th for the United States of America's birthday! That's right, Independence Day is celebrated each year in the US on July 4th--more commonly referred to as the Fourth of July! Celebrate the 4th of July in the Mercado District. Musical guests will perform in the Mercado San Agustin Courtyard. Food trucks will be set up along Avenida Del Convento. Perfect views of "A" mountain and the firework show at the MSA Annex.
Meet in front of CESL at 7pm. We'll take the streetcar to the end of the line--Mercado San Agustin--at the base of Sentinel Peak (aka 'A' Mountain). An all-day streetcar pass is only $4. You can pay at the stop or via your mobile phone using the GoTucsonTransit app. It's FREE to register and attend. Bring money for food at Mercado San Agustin (optional). Have fun, meet new people, explore Tucson, practice your English, and help celebrate the birth of the USA! 
Food in the streets--lights in the sky at Mercado San Agustin. Don't miss out on this fun event. Sign up now!